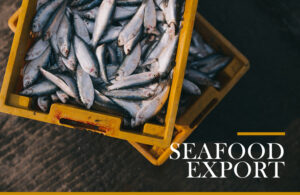 Our products are all sourced fresh from the Pakistani Ocean and only from fishing vessels that are engaged in sustainable and environmentally responsible long line fishing, making us one of the most environmentally conscious leading seafood exporters in Pakistan.
Our highly trained team of expert assessors choose only the best quality seafood for processing. The fresh catch is processed and exported to the buyer within a span of 3 days. Our packaging procedures are of high standards in order to retain and maintain product quality and ensure freshness. We have implemented best in class processing techniques to ensure the highest quality products for our buyers and have established Sun Rise Enterprises as a leading brand in the global seafood markets.
This is the standard flow for outsourced processing of seafood products between our company and our customers. We are flexible to meet the needs of our customers, so please contact us.
1- Initial meeting
First, we will explain our services and finalize the contract. We can meet with you in our office in Karachi Pakistan, or online via ZOOM if you prefer.
2- Estimate
You will provide an estimate based on requests, quantity, delivery date, and any specific requests. Since we will know the general processing cost, we will be able to provide you with a rough estimate.
3- Factory Confirmation
You can visit the factory on-site or remotely in order to check on the production line and other aspects of the factory. We can provide details of the factory itself, such as the location, size, and number of workers. In addition, we can also inform you on details of the production facility such as the production capacity and any competition with other companies.
4- Trial Production, etc.
We can run a trial production to show the quality and calculate the processing fee. We provide not only the costs attributable to the site such as processes, packaging forms, and materials but also information to be used as the basis for calculating customer's costs, such as the relation of raw material size and yield rate.
5- Contracts
The contract is in effect after the customer agrees on the details of processing, the fee, and the delivery date.
6- Raw material delivery​
We send the customer's raw materials to the factory. We also assist with trade arrangements.
7- Processing​
We follow the agreed upon processing details closely and our on-site staff will supervise production on behalf of the customer.
8- ​Product export
We export the products and assist with trade arrangements.
9- Arrival
After the cargo arrives and clears customs, it will be sent out for delivery.